ABC new reported on Nov 9, 2017 "What the 'most armed man in America' has to say about mass shootings".
Mel "Dragon Man" Bernstein was subject of that ABC "hit piece' which declared Mel "the Most Armed Man in America." ABC's agenda in this story was to challenge Mel's mental state and make him look as insane as possible. The Zio-Liberal Agenda has always been to paint white legal gun owners as Meth crazed Bikers /Super freaks and non-whites that tote illegal firearms with scratched off serial numbers as victims of the "WASP" system.
Mel "Dragon Man" Bernstein is a US-Army Vietnam-era American Veteran that is still in the process of grieving over the death of his wife of 16 years, Terri Flanell.
A new low for the Mainstream media to attack a Veteran that is "lonely" because he  was widowed.
Daily Mail reported on 16 June 2012.
Terri Flanell died when she was hit by two smoke bombs travelling at 150mph while being used to create a smoky atmosphere for a new show about the military.

Her husband has spoken of his devastation at the tragic turn of events, saying: 'I lost my best friend.'

Ms Flanell was killed instantly – and the situation could have been even worse, according to Mr Bernstein, who said the rockets missed him by just four inches.

He insisted that the tragic accident was the first time anything had gone wrong on the range in the 60 years he had owned it.

Mr Bernstein fought back tears as he paid tribute to his wife of 16 years, who had run Dragon Man with him for more than three decades.
The terrible accident happened while filming a Reality show for the Discovery Channel resulting in the cancellation of his TV show before the Pilot was released. Terri deied in the last 30 seconds of filming.
Mel runs several businesses from his compound in Denver Springs, CO. The compound is called Dragon Man's Military Museum and it has a paintball park, several firing ranges, a go-kart track. Mel is also a licensed machine gun dealer.
Were you unaware that Americans could buy machine guns?
Mel records are clean, and he is a law abiending citzen. At the compound you fire a Machine gun, Tank or Bazooka at a car of dummies with a sign saying the following…
Or vistors can roast the car with a flamethrower. "I'm really living my dream," Mel says.
Mel Bernstein, who earned his nickname "Dragon Man" thanks to his flamethrower-rigged fire-breathing dragon head perched atop his Harley Davidson
Mel "Dragon Man" Bernstein.
Roadside America a blog site visited Mel back in 2006 and wrote an article based on their travels and Mel asked them..
"You want to see the Hitler room?" (Author response: HELL YEAH!) He has every German belt buckle including Hitler's guard's belt buckle can fire three 25-caliber bullets. A SS belt buckle has a hidden pistol inside it like the movie "Dusk Til Dawn".
(No records of how and who invented the Belt Pistol due to Ally bombing? Hmmm..Sounds familiar? ) Louis Marquis did probably came up with this concept while interned in a WWI POW camp. It's load with esoteric symbols. I would give Kyle Hunt one of mine but they cost over 20,000 USD.
He also built a World War II bunker with  manning anti-aircraft bazookas amidst bullet-riddled pots and pans. Inside the bunker is machine guns and 900 mannequins in military uniform.
"The Nazis had the fastest and best machine guns in World War Two," Mel claims. "3,000 working firearms, 88 military-grade vehicles."
 Nazi room filled with swastikas and NSDAP firearms from WW-2. Mel owns a Sturmgewehr 44 or STG 44 who was designed by SS inventor Hugo Schmeisser. Schemisser also designed the AK-47 when he was in a Gulag in the Soviet Union. STG 44 is the authors favorite WW-2 fire arm.
Roadside America said..
He flicked a switch and our eyes were dazzled by red Swastika flags. Mel has Nazi bicycles, Nazi beer steins, Nazi potato masher grenades. He has a mustard yellow uniform owned by Hitler. Part of the room is reserved for horrific Holocaust artifacts: prisoner uniforms from Auschwitz, corpse tongs from Dachau, soap made from human fat.

"The Holocaust Museum in Washington doesn't even have something like that," Mel said. We asked him why he had so many gas chamber Zyklon B cans (empty). "When I find something, I buy all of it," Mel answered. "Why buy one or two? Where you gonna get 'em? If you don't buy it now, there is no more."
"There's the soap made out of human fat when they melted down the people," he said. Photos add to the horror. "It's a part of history to show people what really happened," Bernstein said
There is a One- page ad in the World Wide Military Magazine that offers to buy all WW-2 memorabilia. Mel which states..
" unfortunately the WWII guys are passing away and in Germany they can't sell that stuff in a newspaper or at a flea market, these guys go to funerals and ask the family—if the guy's 92 years old, he's probably a Nazi—if they have anything in the basement or attic they want to get rid of."
Mel Berstein is a flamely Jewish name and he has a Jew York Accent that he tries to hide. He also whines about "Bullies" and lampshades often.
Colorado Springs Gazette reported in a  2017
Dragon Man was once Mel Bernstein, a wimpy Jewish boy who used to get his ass beat on the streets of Brooklyn. But after a brief stint working on weaponry for the Army at Fort Bliss during the Vietnam War, Bernstein opened a motorcycle repair shop in Long Island, where he earned the name "Dragon Man" for "pop[ping] wheelies on the Harley that he fashioned with a fire-breathing dragon head."
(Mel is a resigistered Democrat, perhaps it a tongue and cheek joke.)
In December 21, 1995, New York Times published an article titled "For Most G.I.'s, Only Few Hints of Hate Groups"
"(Mel).. Bernstein, who still mourns the day last April when Federal agents raided his complex and confiscated a Vietnam War-era armored personnel carrier. Mr. Bernstein, who comes from Brooklyn and is a former tank commander, was vague when asked if Fort Carson soldiers participated. "It's all kinds of people — firemen, family people," he said.
James Brooke was implying that Fort Carson is loaded with "Neo-Nazis" because graffiti on portable toilets at a firing ranges. I serious doubt the late-Dr. William Luther Pierce would command his devotees to inscribe NSDAP symbols on toilets of all places! Sounds like a "Chosen" member of Army would be the first suspect in my option thru my personal experience.
Speaking of espape goating..
Not only is Mel called America's next mass shooter according to Lib-tarts on Social Media. ABC implied he is the next Stephen Paddock, which Paddock is as fiction as Chevy Chase in "A Deal of the Century".
(The Male Lesbian) Kyle from Secular Talk covered the same story.
Mel takes ABC reports inside his 1960's style kitchen that he has 4 mannequins girl friends "Betty, Jill, Jennifer (and last one was unnamed)." He made up the names of on the spot and has a twisted sense of humor that I can't help but to be amused by. If gun grabbing fags came to interviewing me, I would troll the hell out of them. "Why not?" ABC mission is clear, to make him look as bad a possible, go ahead tell them your a good boyfriend Mel and put panties on them in the winter time.
—————————————————————————————————————————————–Rollie Quaid Trivia: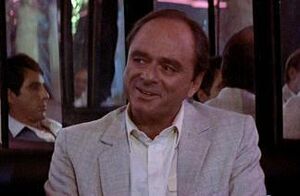 "Mel Bernstein is a crooked cop in the film Scarface. When he meets Tony at the Babylon Club, he tells him that he will be arrested for the murder of Rebenga as well as for the blood bath at the Sun Ray Hotel, unless Tony pays him a monthly unmentioned amount of bribe money, which Mel shows to Tony on a napkin. He asks Tony if he knew how it worked? Bernstein explains to Tony what the monthly amount will do for Tony's business."-Fandom.